We are excited about one of our latest building projects and seeing it featured in the local news! The town of Okotoks has commissioned Blocks Container Structures to build a new apartment complex out of shipping containers in order to meet their sustainability standards. This is an exciting project and even more exciting to see more and more communities embracing the sustainability and durability of building with shipping containers.
You can read the article below or head over to their site here.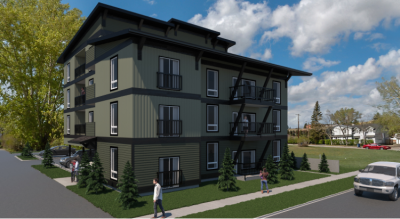 A rendering for the new apartment building. (Photo courtesy: Blocks Container Structures)
The Town of Okotoks has supported environmental sustainability once again, after the Municipal Planning Commission approved an apartment building made of shipping containers.
The building, to be located at 2 Lineham Avenue will be created by Alberta company, Blocks Container Structures, who specialize in alternatives to traditional construction ventures by using recycled shipping containers for materials.
Town of Okotoks Environment and Sustainability Coordinator Dawn Smith says our municipal government supports the project.
"We obviously support buildings that re-use materials of any kind for their construction, and of course re-using shipping crates is a great way to create interior structure. That being said we obviously expect that a shipping container building would meet all requirements for our Land Use Bylaw, and our aesthetics requirements."
She adds although the building will be made of shipping containers, it will not be an eyesore to the community.
"One requirement we would have to meet our Land Use Bylaw and residential aesthetics is that it is considered a building material, the facade of the building would still have to meet our guidelines. So the shipping container would have to be treated to meet our level of aesthetics. In this situation they're using Hardiplank on the lower levels, and also painting the shipping containers, It's really a use of the material versus looking like a shipping container."
The new apartment building is not the only building in Okotoks made of recycled material, there are quite a few others including First Calgary Financial, and Westmount School.
The new building was approved by the Municipal Planning Commission on March 16.