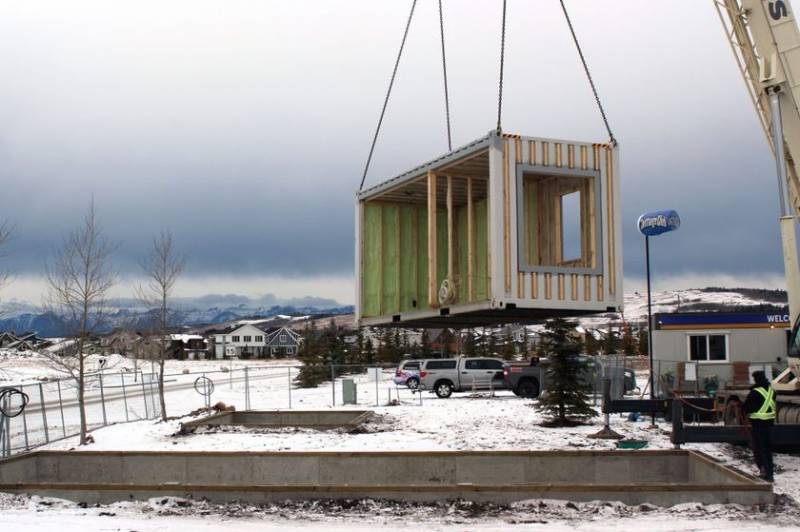 The first 'c can' shipping container is lowered onto a concrete foundation in phase four of the CottageClub development near Ghost Reservoir, Alta. on November 26. PATRICK GIBSON/COCHRANE TIME
Developers of a recreational community on the shores of the Ghost Reservoir are implementing a rising global housing trend into the latest phase of the project.
Phase four of CottageClub, a venture of Calgary-based Lamont Land, will feature modular cabins constructed from inter-modal shipping containers commonly known as 'c cans'.
On November 26, workers using a crane lifted the first set of containers off a flatbed truck and onto a concrete foundation within the 350-lot subdivision.
"We've used four Seacan's as a shell and joined them together like building blocks to create a comfortable place for cottagers to live", said CottageClub project manager Don Stengler.
"A single c can has a narrow interior spec, but when three or more are placed together with a proper floor plan, it becomes a comfortable cottage. Plus, shipping containers provide an extremely strong and durable structure."
The semi-finished containers will have their roofing, siding and interiors finished on-site. The developers claim owners of the new corrugated steel cabins will see considerably lower utility bills than CottageClub's more traditional offerings.
Buyers will have the option of adding a basement, or stacking containers on top of each other for a multi-level vacation home. A bungalow-style cabin comprised of two side-by-side 40-foot containers would offer around 580 square feet.
Lots at the Ghost Reservoir community are priced from $110,000 to just north of $500,000, and fully-completed c can cottages start at around $200,000.
Shipping containers are playing an increasingly larger role in a worldwide housing industry focused more and more on sustainability. A majority of the containers used in CottageClub's fourth phase are manufactured in either Calgary or Edmonton.
In early 2018, Calgary city council relaxed regulations surrounding the prefabrication of residences, paving the way for various single and multi-family c can projects to pop up throughout the city.